I love writing these blog posts because you get to hear the story behind the photos from my point of view. Surely, this proposal has a great backstory. Nathan proposed to Bethany on Thursday, May 17th 2018 at 7:00am. When did Nathan come up with the game plan to propose? Approximately 8:00pm on Wednesday, May 16th. Literally LESS THAN 12 hours before, hahaha. Talk about being excited and wanting to propose ASAP.
A little backstory–Nathan and I are friends through mutual friends and photography. I had only hung out with him once or twice in the past and it had been around a year since we had last seen each other. Out of nowhere on that Wednesday night, he texted me about a "huge question" — and NO JOKE, I had this GUT FEELING he was going to propose to his girlfriend and wanted me to capture it. (Please see the screenshots from our text below, the conversation is actually so funny). Anyway, we talked on the phone shortly after texting and he said something along the lines of "so, I bought the ring yesterday, already talked to her family…….. and I think I'm going to propose tomorrow……"
WOW, talk about a quick turn around! Within the next hour, I was already over at his house with him, his friend Erik, and his parents, figuring out the game plan for the scene of the proposal. We even picked flowers and got everything set up for the next day. (At this point, it's 10:00PM) MEANWHILE, Bethany and her friend were waiting for Erik and Nathan to meet up for dinner… and the guys were already about an hour late. What's going through my head is "Isn't Bethany questioning where on earth Nathan is and why it's taking him so long?" Surprisingly, no… she didn't question anything.
After picking the flowers and preparing everything, we planned on an early morning sunrise proposal. Nathan told Bethany, "come over for breakfast at my place at 7am… I'm going to dress nice so look cute!" AT THIS POINT, what's going through my mind is, Bethany for sure knows what's going on. Like… for sure. Man, was I wrong…….
SO! After figuring out all the logistics, the proposal prepping squad adjourned at 10:30PM and we planned to re-meet the next day at 6:00AM.
Fast forward to the next day, Nathan is actually super nervous as Bethany is on her way to his place. (See the screenshot of the text he sent me… LOL). They make their way down to the dock and I'm literally hiding in a boathouse shed. They make their way to the beginning of the dock and Bethany stops Nathan to take some cute photos of him and the dock. YOU GUYS! At this point, Bethany STILL DOESN'T KNOW SHE'S ABOUT TO BE PROPOSED TO (it wasn't until after the proposal that she told me, "at first, I just thought he was being romantic and this was a cute date") Anyway, they make their way to the end of the dock and the rest is history.
I'm going to let the photos speak for themselves. The moment was priceless; ESPECIALLY the surreal shots of Bethany's expression after she takes it all in. She stepped foot on that dock with her boyfriend and left with a FIANCÉ.
Text conversation with Nathan on Wednesday, May 16th at 8:00PM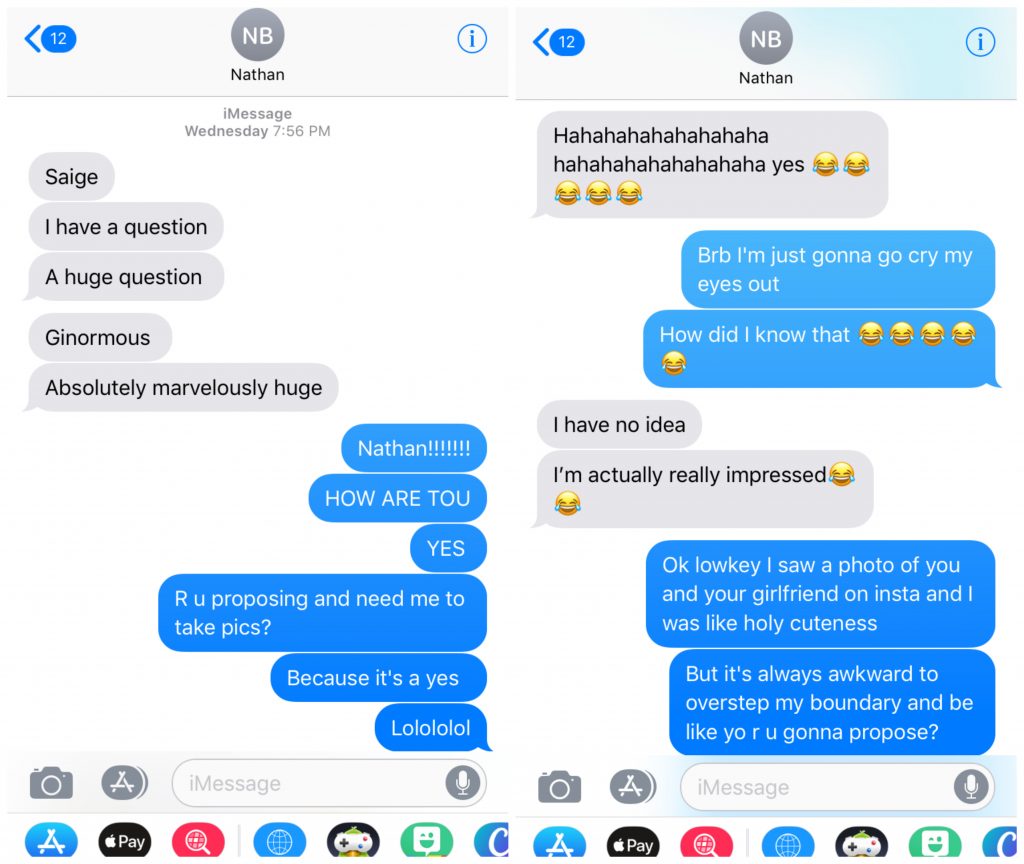 Text conversation with Nathan on Thursday, May 17th at 7:00AM
(JUST BEFORE Bethany was about to arrive)